The National Hellenic Museum offers unpaid credit and non-credit internships for undergraduate and graduate students throughout the year. An internship is a great way to gain real-life experience working in a mid-size Museum during your Fall, Spring, or Summer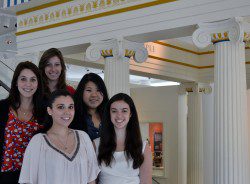 semesters. We value every single member of the National Hellenic Museum's team and will make sure you receive a learning experience that aligns with your career goals. There is a great deal of potential to learn and grow with this unique opportunity. Internship schedules are flexible based on each interns work and school schedules and the projects in the museum.

We currently offer internships in the following departments
---
Library and Archives
We are not accepting applicants at this time.
Library and Archives interns will work in the daily management of the Gus & Mary Stathis Library and Resource Center. Tasks will include any aspect of storage, cataloging, documentation, and everyday care of material in the library and archives, as well as answering reference inquiries, assisting researchers in the archives reading room, and participating in the day-to-day management of the library and resource center. Library or Archives background and fluency in modern Greek preferred.

Collections Management
We are not accepting applicants at this time.
Collections interns will have the opportunity to assist in all aspects of Collections Management and Registration including processing, cataloguing, provenance research and proper artifact handling and storage. Interns will gain direct experience with and knowledge of the Museum's Collection.
Education
The Education Department is looking for individuals with a background in History, Public History, Museum Studies, Education, or other related fields.
Interns will have the opportunity to gain practical experience within the Museum.  Projects may include developing tours and programs for students K-12, researching public programming, and helping to facilitate programs and tours.
If interested, please send a cover letter and resume to Dimitra Georgouses, Education and Public Programs Manager at dgeorgouses@hellenicmuseum.org.
Exhibitions
We are not accepting applicants at this time.
Exhibitions interns will assist with both exhibition-specific tasks and general curatorial activities. An effort will be made to include interns in various aspects and phases of a project or exhibition and to enable interns to gain an understanding of the exhibition process. Tasks may include, but are not limited to, general historical and/or art research, image research, writing, and data organization and entry.
Administrative and Building Management
We are not accepting applicants at this time.
Enjoy hands-on experience helping maintain and run a modern museum in a state of the art 40,000 square foot building. Tasks include a wide range of activities including administrative responsibilities, facility management, horticultural and organizational work, as well as assisting staff members with events and other duties. This is an internship perfect for individuals interested in a career in building management or those who are in looking to gain valuable experience in the administrative field.

Video Editing
We are not accepting applicants at this time.
Capture video and still images
Manipulate video footage and images to be used in video and print production
Edit video in at least one of the following: Adobe Premiere or After Effects
Utilize Adobe Photoshop and Illustrator programs
Add text, resize images, retouch photos, remove backgrounds from images, and perform color corrections
Assist in staging, maintaining photo equipment, props, backgrounds and set materials. Includes assisting with product set up, lighting set up, product repackaging and general maintenance/organization of studio.
Log and archive video footage and still photography
Maintain and update an efficient video/still photography library to be utilized by entire the museum (raw footage, b-roll and completed project footage)
Be proficient with Windows & Apple OS X
Familiar and Comfortable with Adobe CC Suite
Consistently meet production goals, standards, and deadlines
Social Media/PR
We are not accepting applicants at this time.
The National Hellenic Museum is seeking an energetic Social Media/PR Intern to work to implement various advertising, content marketing and public relations strategies. Your main goals will include growing our online presence, improving our brand, driving museum attendance, and supporting our Development, Event, and Education Departments. You'll work as a valued contributor on our tight-knit museum administrative team.
Essential Duties/Responsibilities
Create new content and research relevant content to publish to the National Hellenic Museum's Facebook, Twitter, Pinterest accounts as well as email, newsletters and web
Assist our public relations efforts towards upcoming exhibitions, events, venue space, programming and supporter outreach
Write, edit, and publish approved posts
Monitor and respond to comments; engage fans and followers in conversation
Research and implement new creative strategies for expanding social media reach
Attend NHM events to develop content for email and other social media platforms
Assist with monitoring and reporting on the success of social media initiatives
Research and identify best practices of social media strategy per outlet
Work on miscellaneous tasks and projects
Qualifications
Junior or Senior undergraduate in Journalism, PR, Marketing, or related field (sophomores may be considered if appropriate criteria are met)
Must be available to Tuesdays and Thursdays, timing flexible
Enthusiastic about social media
Excellent research and writing skills
Professional demeanor, organizational and communication skills
Ability to work independently and complete assigned tasks within identified timeframes
Keen attention to detail when proofreading, copyediting, and fact-checking
Comfortable utilizing Facebook, Twitter, Instagram, Pinterest, YouTube, Hootsuite, Constant Contact, MailChimp, and WordPress
Familiarity with Microsoft Word and Excel
Ability to take and upload digital photos; graphic design experience is a plus
Art Direction
We are not accepting applicants at this time.
Art Direction interns will learn how to develop marketing, event, public relations, and communication pieces, as well as creative presentations.  Additionally they will be responsible for coordinating creative assets, and maintaining a creative library as well as conducting image and strategic marketing research.  Candidates must have strong creative sense, with a portfolio that demonstrates their ability to think conceptually and creatively. All candidates must be proficient with CS4-CS6 and Microsoft Office, be able to work in a fast paced and demanding environment within a mindset able to accept constructive criticism and be solution oriented.
Internship opportunity is limited to current students who are in their junior/senior year of college and who are working towards a Bachelor's degree in Art Direction or Graphic Design.
Special Events
We are not accepting applicants at this time.
The National Hellenic Museum is seeking an energetic Special Events Intern to work alongside other members of our special events department to assist with production and management of NHM special events as well as sales and management of venue rentals. Your main goals will include growing our venue rentals, working with industry professionals and supporting the Special Events department with Museum events. You'll work as a valued contributor on our tight-knit museum administrative team.
Essential duties/responsibilities:
Assist with upcoming events and venue rentals
Act as liaison for vendors during space rentals
Build relationships with industry vendors
Create compelling content  for promotional materials and website
Develop support materials to further each department's success
Work on miscellaneous tasks and projects
Qualifications:
Superior writing skills
Strong communication skills
Ability to meet deadlines and follow directions
Team-player mentality
Upbeat personality
Quick learning ability
High comfort level with computers
Exceptional time management skills
Preferred (though not required): A degree in Hospitality Management or related field.
Oral History
We are not accepting applicants at this time.
Oral History interns will work in the daily management of the Frank S. Kamberos Oral History Center. Tasks will include researching, organizing, collecting, editing, and maintaining oral histories currently in the collection and future inclusions. In addition, interns will assist researchers, and participate in the day-to-day maintenance and management of the oral history collections. Fluency in modern Greek preferred.