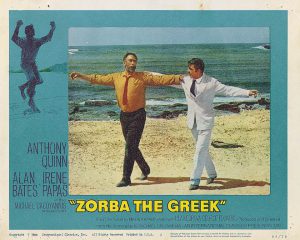 Thursday, September 24
6:00-8:00 PM
 $10 per person
1964 British-Greek drama film directed by Cypriot Michael Cacoyannis and starring Anthony Quinn as the title character. It is based on the novel "Zorba the Greek" by Nikos Kazantzakis. The supporting cast includes Alan Bates, Lila Kedrova, Irene Papas and Sotiris Moustakas.
An aimless Englishman finds he has a small inheritance on a Greek island. His joyless existence is disturbed when he meets Zorba, a middle aged Greek with a real lust for life. As he discovers the earthy pleasures of Greece, the Englishman finds his view on life changing.
The program will begin with a brief introduction by National Hellenic Museum President of Cultural Affairs, Connie Mourtoupalas.

Purchase your tickets below.