Every immigrant who forged a path to the United States has left an imprint on America. Your family's story, your history, make up the American mosaic.
Continue this legacy by etching your name in stone on a Legacy Brick proudly displayed at the entrance to the National Hellenic Museum. Honor your family, a loved one, special occasion, or simply declare your loyalty to the Hellenic heritage. Your 100% tax deductible donation helps us connect generations through Greek history, art, and culture, and makes it possible for us to share and preserve the Greek story in America for generations to come.
KEEP HISTORY ALIVE
---
"We participated in the Legacy Brick program because we wanted
future generations to enjoy the Museum. We have always supported
the Museum and its mission because it gives visitors
an appreciation of Greek culture."  – Alice Kopan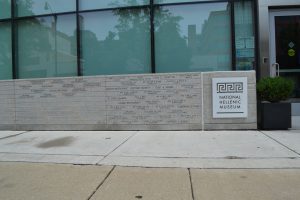 Dr. Andrew Kopan and his wife, Alice, have supported the National Hellenic Museum since its inception, when he served as the first chairman of the organizing committee. Dr. Kopan (1924-2006) was born to Greek immigrant parents and raised in Chicago's Southside.   Dr. Kopan spent 60 years researching, writing and lecturing on multiculturalism, ethnicity and comparative religions. As Professor Emeritus at DePaul University, he received the Via Sapientiae Award for helping to establish the importance of ethnic studies in North America.
ETCH YOUR NAME IN HISTORY
---
Grand bricks measure 17 x 8.25 inches and are available in limited quantity for $15,000. Large bricks measure 15 x 3 inches and are available for $5,000. Standard bricks measure 10 x 2 inches for $3,000. Only 178 large bricks and 205 standard bricks will be created, ensuring each brick will be seen by thousands of visitors as they walk through and past the entrance of the National Hellenic Museum.
For more information, contact
---
NHM Development Team
312-655-1234 x21
development@hellenicmuseum.org
To purchase a Legacy Brick please click the link below to proceed to our payment page