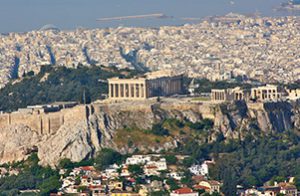 In collaboration with the Chicago Humanities Festival
Thursday, October 29
7:00-8:45 PM
CHF members $12
General Admission $15
Teachers $10
Ancient Athens was the birthplace of democracy. Today, Greece and other European nations are testing grounds for an evolved form of citizenship within greater Europe. Moral philosopher Martha Nussbaum will discuss what remains powerful in the ancient example. Ambassador Ioannis Vrailas of the European Union Delegation to the U.N. joins with a conversation on citizenship within the E.U. Moderated by Jerome McDonald of WBEZ.

Light refreshments and wine will be served. Purchase your tickets at chicagohumanities.org.

Presenters:
Martha C. Nussbaum is the Ernst Freund Distinguished Service Professor of Law and Ethics at the University of Chicago, appointed in Law, Philosophy, and Divinity. She is the winner, most recently, of the Inamori Ethics Prize.

Ioannis Vrailas became Deputy Head of the Delegation of the European Union to the United Nations in July 2011. After studying economics at the University of Athens and interning at the European Commission, Mr. Vrailas joined the Greek Ministry of Foreign Affairs in 1985. He has served as Assistant to the Minister of Foreign Affairs (1989-1991), Deputy Chief of Mission of the Embassy of Greece in Tehran (1996-1999) and Deputy Chief of Mission of the Embassy of Greece in Washington D.C., (2009-2011).

For more than 20 years, Jerome McDonnell has provided global affairs coverage on WBEZ's "Worldview." From Nobel Peace Prize winners to Nicaraguan sweatshop workers, "Worldview" highlights a range of voices that go beyond the headlines. The show also provides Chicago's global citizens an opportunity to lend their expertise to the public with in-depth conversations. Jerome's been with WBEZ since 1984. He spent ten years as a producer for a variety of shows, including "Midday with Sondra Gair." He also had a fling in management as executive director of programming.