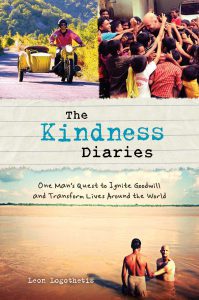 Leon Logothetis traveled the world on his motorcycle with no money – counting on the kindness of strangers
Presentation and Book Signing
Sunday, September 20
2:30-5:00 PM
 Free to the general public
Leon Logothetis's book, "The Kindness Diaries: One man's quest to ignite goodwill and transform lives around the world" follows the inspirational journey of a former stockbroker who leave his unfulfilling desk job in search of a meaningful life. He sets out from Los Angeles on a vintage motorbike, determined to circumnavigate the globe surviving only on the kindness of strangers. "The Kindness Diaries" will introduce you to a world of adventure, renew your faith in the bonds that connect people, and inspire you to accept and generate kindness in your own life.
About the author:
Leon Logothetis is a global adventurer, motivational speaker & philanthropist. It wasn't always that way. He used to be a broker in the city of London where he felt uninspired and chronically depressed. He gave it all up for a life on the road.
This radical life change was inspired by the inspirational movie "The Motorcycle Diaries". The days of living and working behind his 'slab of wood' (or desk to the layman) are well and truly over. His new passion: Finding ways for your inner rebel (that voice that tells you, you are worth so much more than you think) to come out and play. The inner rebel tells you that your life is yours. And anything you dream of is possible. Anything. And that the fuel for all this delicious potential is simple: Kindness and harnessing the power of human connection.
Leon has visited more than 90 countries and traveled to every continent. Leon has documented his travels for numerous media outlets including Good Morning America, Los Angeles Times, San Francisco Chronicle, Outside, Good. Learn more about Leon at leonlogothetis.com.