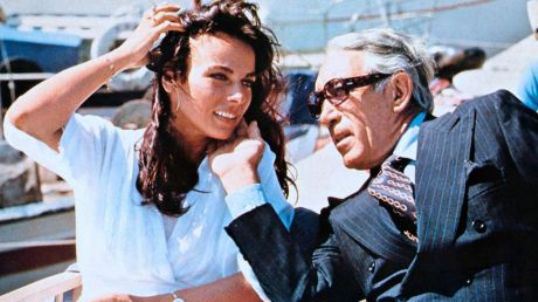 Sunday, July 26
3:00-5:00 PM
$10 per person
Rating: R
Run time: 106 minutes
Release Year: 1978
Director: J. Lee Thompson
Cast: Anthony Quinn, Jacqueline Bisset, Raf Vallone, Edward Albert, James Franciscus, Camilla Sparv
The producers of The Greek Tycoon insisted that their film was not based on any "actual persons, living or dead." Anthony Quinn stars as Greek shipping-magnate Theo Tomassis, who becomes the second husband of socialite Liz Cassidy (Jacqueline Bisset). It seems that Liz is the widow of young, charismatic American president James Cassidy (James Franciscus), who was felled by an assassin's bullet. When Tomassis marries the former Mrs. Cassidy, it is over the strident protests of his former love, Paola Scotti (Luciana Paluzzi), not to mention the millions of American who consider Liz to be an icon. Too long at 106 minutes, The Greek Tycoon was nonetheless expanded to 112 minutes for home video. Author: Hal Erickson
Purchase your tickets below.