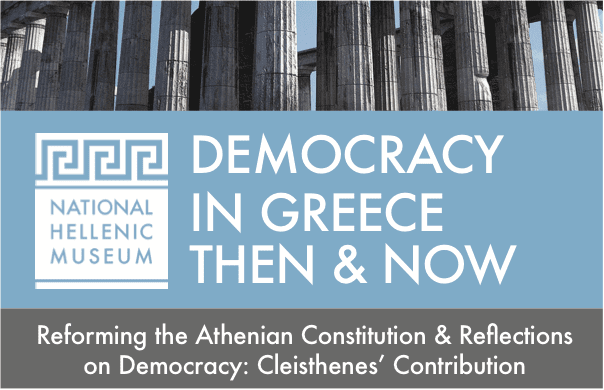 DEMOCRACY IN GREECE THEN & NOW
Thursday, October 12th from 6:00-7:30 PM
Reforming the Athenian Constitution & Reflections on Democracy: Cleisthenes' Contribution
Cleisthenes is generally considered as one of the founding fathers of democracy – probably the most important one. Aristophanes, Thucydides, Plato and Xenophon, among others, who were all, in different ways, interested in the Athenian constitution, do not even mention his name. The silence of our sources is all the more noteworthy since he was a descendent of illustrious ancestors, on both sides of his family tree.
It will be argued that Cleisthenes' real contribution is of relevance to modern democracy and suggest ways that it could be constructively reformed. Join the NHM and Dimitris Kyrtatas as we explore both his signi cance and the indifference of many of his contemporaries.
We apologize, but online payments are no longer available. Payment will be accepted at the door.