Demetra Kasimis on Nostos in dialogue with Angeliki Tzanetou from UIUC
October 6, 2019 @ 2:00 pm

-

4:00 pm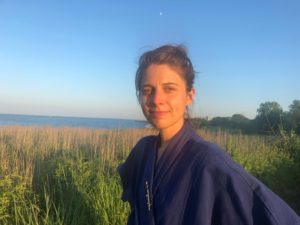 Dr. Arthur G. Nikelly Annual Lecture
for the Preservation of Hellenic Heritage and Culture
At a moment of unprecedented human mobility, shifting asylum laws, and raging anti-immigrant sentiment, Professor Demetra Kasimis reflects on democracy's longstanding relationship to immigration and nativism by returning to the thought and politics of classical Greece.  During the fifth and fourth centuries BCE, immigrants called "metics" (metoikoi) settled in democratic Athens without a path to citizenship. Galvanized by these political realities, such thinkers as Plato cast a critical eye on the nativism defining democracy's membership rules and explored the city's anxieties over intermingling and passing. Yet readers continue to treat immigration and citizenship as separate phenomena of little interest to theorists writing at the time.  Joined in conversation by Professor Angeliki Tzanetou, Professor Kasimis will discuss the inspiration for her recently published book, The Perpetual Immigrant and the Limits of Athenian Democracy (Cambridge, 2018). If immigration was a central issue for the "originary" practices of democracy and political theory in Athens, can this past speak in new ways to present questions of migration and citizenship?
Bio:
Demetra Kasimis is Assistant Professor in the Department of Political Science at the University of Chicago, where she specializes in democratic theory and the thought and politics of ancient Greece. She is the recipient of awards from the National Endowment for the Humanities, the American Council for Learned Societies, and the Onassis, Fulbright and Mellon Foundations. After graduating from Columbia University with a degree in philosophy and Modern Greek, she received her Ph.D. from Northwestern University in political science. Before joining the faculty at the University of Chicago, she taught at Yale as a postdoctoral fellow and at California State University, Long Beach as an assistant professor.  The Perpetual Immigrant and the Limits of Athenian Democracy (Cambridge UP, 2018) is her first book.
We apologize, but online payments are no longer available. Payment will be accepted at the door.