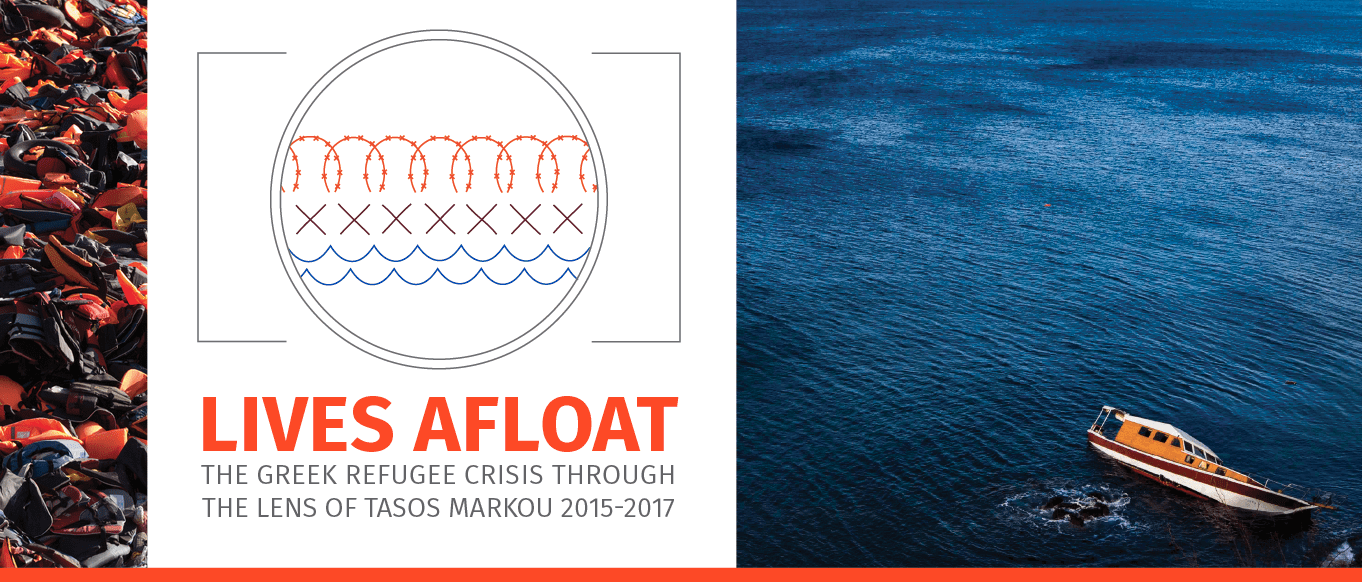 EXHIBITION NOW OPEN
Lives Afloat: The Greek Refugee Crisis through the Lens of Tasos Markou 2015-2017 is now open on the first floor of the Museum through spring 2019. This photographic exhibition portrays the realities facing refugees as they arrived in Greece at the height of the refugee crisis.
By early 2015, the numbers of refugees pouring into Greece had dramatically increased to hundreds of thousands of men, women, and children. Many fled their home countries, attempting to reach Europe over land and by sea. Most were fleeing violence, war or persecution, and more than a third were escaping the Syrian Civil War. Unlike economic migrants, refugees do not willingly leave in search of new or better opportunities. Rather, refugees are forced from their homes by threat of harm and unsafe conditions.
To compose the Lives Afloat exhibition, the NHM exhibition team utilized evidence-based reports and data from the United Nations High Commission for Refugees (UNHCR) and imagery of photographer Tasos Markou. Born in 1983 in Larisas, Greece, Markou studied photography at the Diek Voluou Public Vocational Training Institute. In 2015, he traveled to the island of Lesvos to cover the refugee crisis. His photographs capture some of these journeys — the difficulties of sea crossings, the living conditions in camps, and the boundaries encountered, particularly at the northern border of Greece. Daily life in the camps, including the poignant moments of families trying to adapt to living with limited resources and the sense of chronic waiting are portrayed.
The NHM's Lives Afloat exhibition shows a perspective of the refugee crisis in Greece over a three-year period in three sections, Arrivals, Waiting, and Borders, to illustrate the experience through powerful photography. Markou found himself changed by the experience, at times working more to provide aid as a volunteer than as a photojournalist. "I decided it wasn't enough to just be a good person. You have to act. Lesvos changed me. It would change anyone who comes here," said Tasos Markou.
Throughout the coming year this exhibition will be supplemented with public programming, docent-led tours, and invited speakers to help raise awareness about this crisis, and the fate of refugees across history.