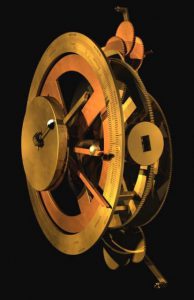 Thursday, April 14, 2016
6:30 – 8:30 PM
Admission $15
Members $10
Students $5
More than 21 centuries ago, Greek scientists created a mechanism that used brass gearwheels to predict the movements of the sun, the moon, and probably most of the planets, essentially inventing the world's first computer.
Found by Greek sponge divers in an ancient shipwreck, its corroded remnants, now known as the Antikythera Mechanism give us fresh insights into history and challenge our assumptions about technology transfer over the ages.
Dr. John Seiradakis, Radio Astronomer and Physics Professor at the Aristotle University of Thessaloniki, Greece, will discuss the work of an international team of experts who used 21st century technology to decode the truth behind the world's first computer.
This program will also feature the artwork of two local artists inspired by the Antikythera Mechanism: Terry Poulos and Keith Skogstrom.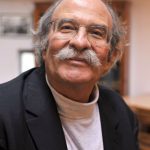 About John Seiradakis
Professor, Aristotle University of Thessaloniki
John Seiradakis is a radioastronomer and professor in the Department of Physics in the Aristotle University of Thessaloniki. After taking his first degree in Athens, he went to the Victoria University of Manchester in the UK where he completed his MSc and PhD. His main research interests are in Neutron Stars (Pulsar searches – Emission mechanisms – High frequency radio observations – High frequency polarization – Interstellar medium investigations), Flare Stars (UBV Optical Observations – Flare monitoring – Studies of the atmospheric activity of Flare Stars and RS CVn stars) and The Centre of our Galaxy (High frequency radio maps – Polarization – Modeling of radio observations). With about 90 publications to his credit, he is very active both in research, teaching and the promotion of astronomy. His publications include 44 papers in refereed journal as well as educational books and conference proceedings. In addition to chairing many committees at his university and representing Greece on numerous European and international organizations, he has served as both Secretary and President of the Hellenic Astronomical Society.
Introductory Remarks by Dr. Thanasis Economou
Senior Scientist at the University of Chicago Enrico Fermi Institute
A native of Greece, Thanasis (Tom) Economou has been building instruments for interplanetary spacecraft since the mid-1960s. Currently he is associated with three robotic interplanetary missions: the Mars Exploration Rovers, the Cassini mission to Saturn, and the Rosetta mission to Comet 67P/Churyumov-Gerasimenko. Economou also built the Alpha Proton X-ray Spectrometer that successfully performed the first chemical analysis of martian rocks aboard the Mars Pathfinder rover in 1997.

The "Celebrating the Greeks" program series is made possible by a generous donation from Grecian Delight Foods and the Parthenis Families.

Other generous sponsors include:
PanHellenic Scholarship Foundation
Hellenic Link – Midwest
Hellenic American Women's Council
Dr. Thanasis Economou
Department of Classics and Mediterranean Studies, University of Illinois at Chicago (UIC)


Purchase your tickets below.