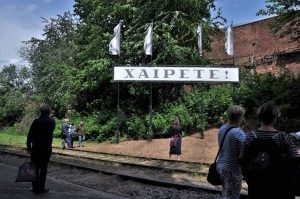 ART TALK: ZAFOS XAGORARIS
"THE WELCOMING GATE" 
MARCH 31   |   2 – 4 PM   |   AT THE NHM
Zafos Xagoraris is a visual artist, a Professor of the Athens School of Fine Arts and, during the spring semester, a Witt artist in Residence in the University of Michigan in Ann Arbor.
He has participated in various international exhibitions, suchas Manifesta, Sao Paulo Bienal and Documenta.
Xagoraris will present his last sound installation, which was exhibited during documenta14, in Kassel, Germany, in 2017. He will also talk about the historical references and methodology of his work, as well as the art environment in Greece today. Learn more at: www.zafosxagoraris.net
We apologize, but online payments are no longer available. Payment will be accepted at the door.